College of Charleston - English Language Institute
English Language Institute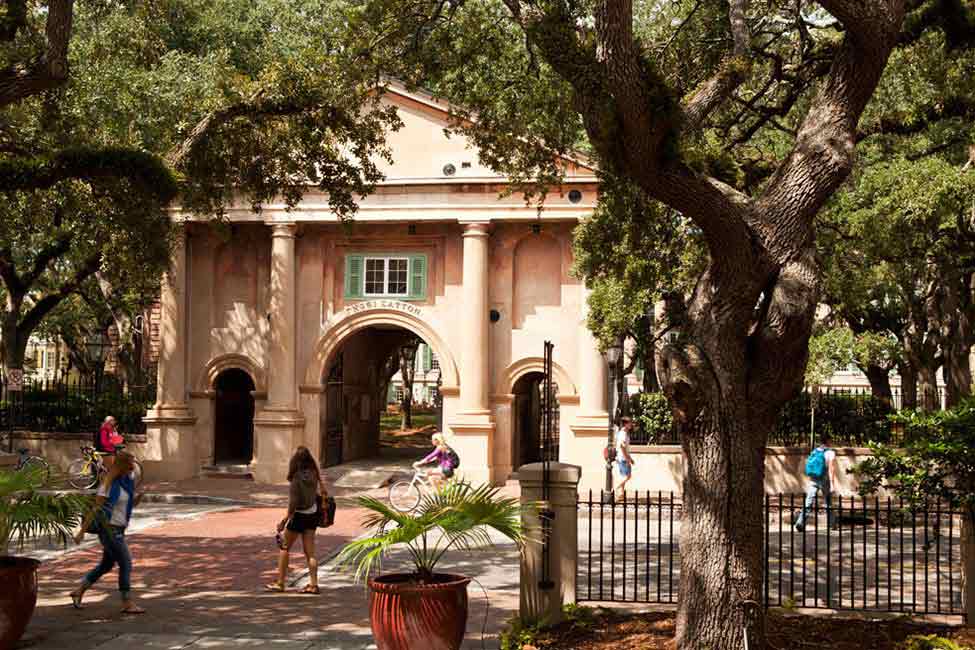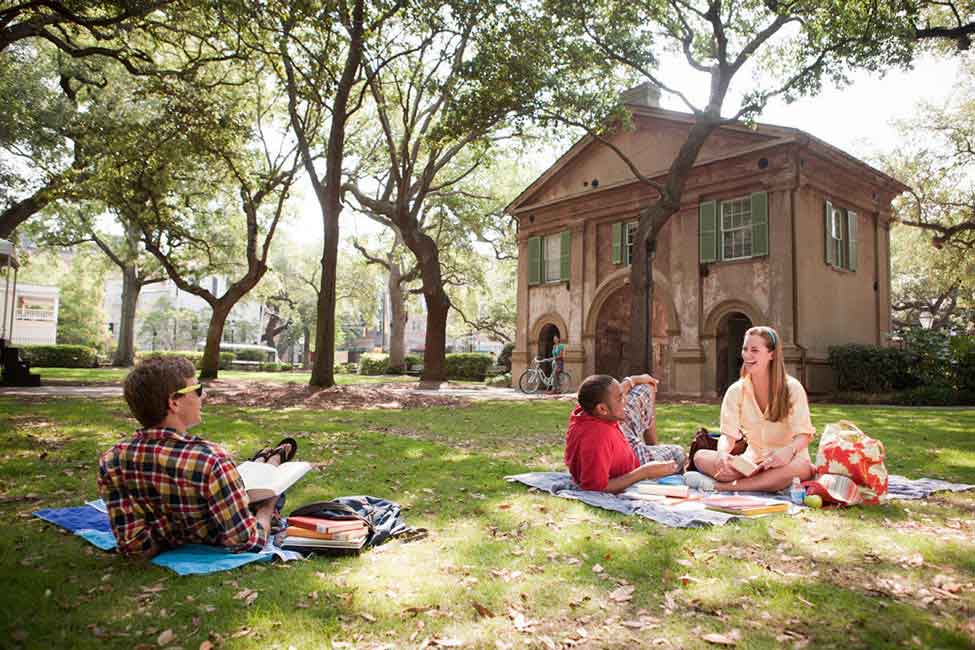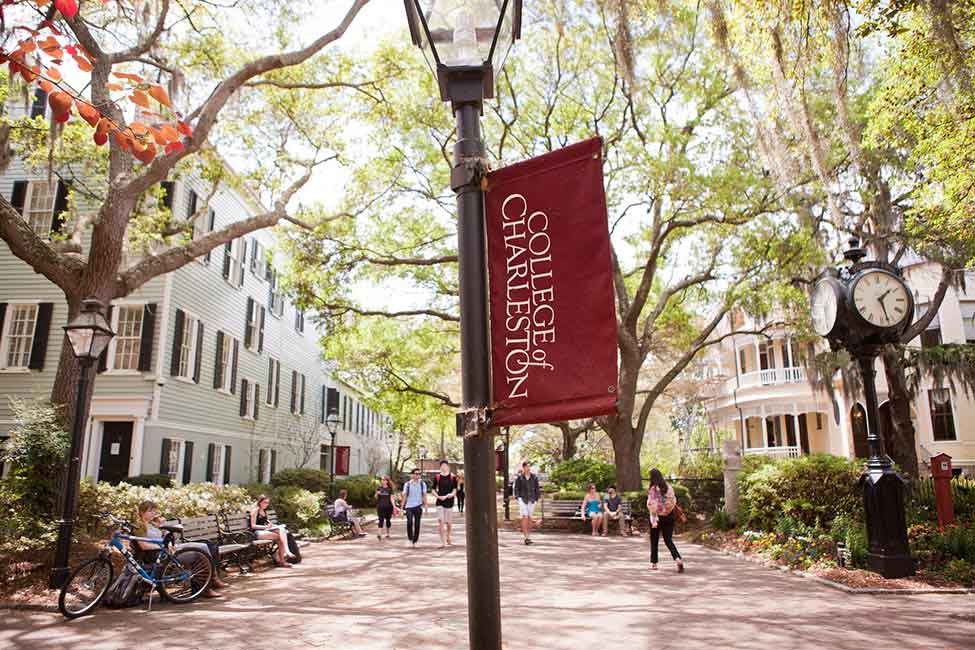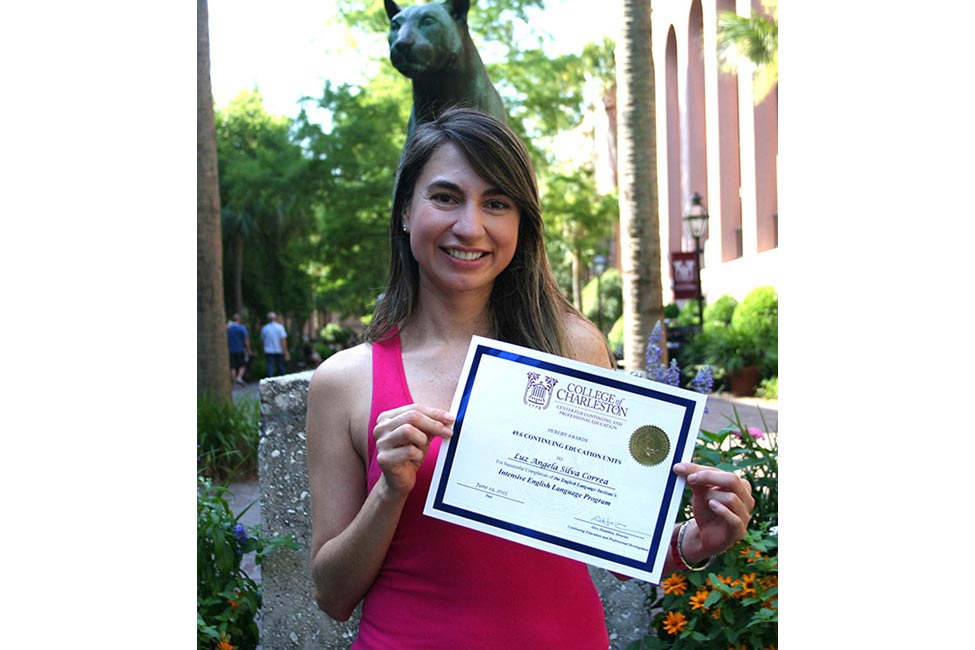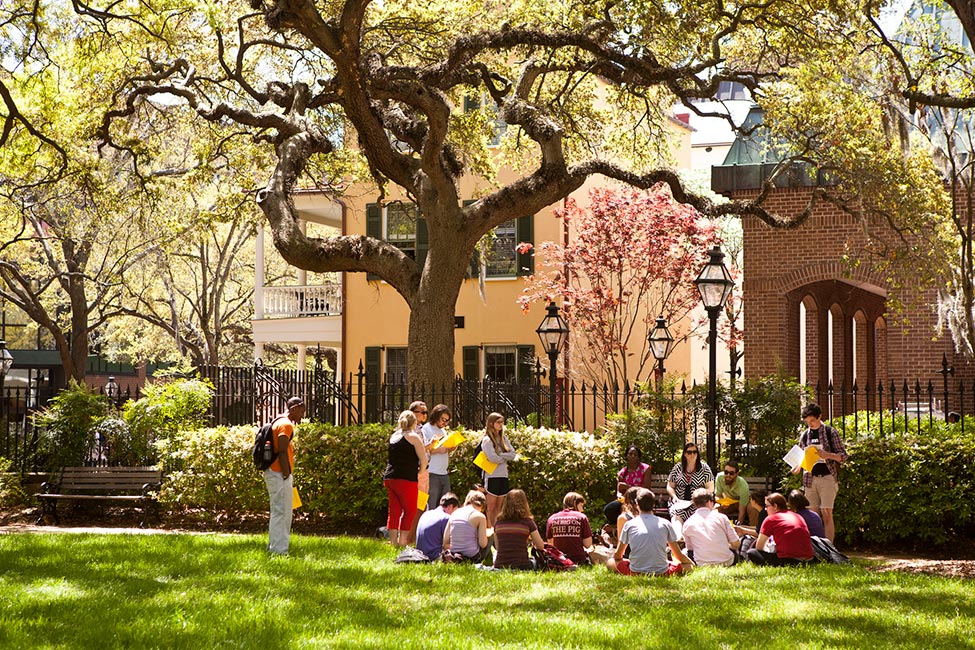 Fast Facts
School Size

Medium

Tuition

$1,000—$5,000 Session

Affiliation

Public

Type of School

University/Intensive English Program

Student Body Gender

Co-ed

Religious Affiliation

No Affiliation

Scholarships for International Students

Yes

Conditional Admission Available

Yes

Top Programs

Study and Travel, English for Academic Purposes, Intensive English

Setting

City

Type of Housing

Residence Hall, Apartment

Social Media
Why Charleston, SC?
The No. 1 City in the United States and Canada (Travel + Leisure, 2016)
The No. 2 City in the World (Travel + Leisure, 2015)
The No. 1 destination city in North America (Condé Nast Traveler)
Among the top 10 fastest growing cities for software and Internet technology (Fast Company)
The friendliest city in America (Travel + Leisure)
The most polite and hospitable city in America (Southern Living)
The sixth best town ever (Outside Magazine)
The eighth smartest city (Forbes Magazine)
Among the top 21 places in the world (Fodor's Travel guide)
One of the coolest small cities in America (GQ)
The English Language Institute
The English Language Institute (ELI) offers a variety of programs for non-native speakers who wish to pursue English language study for academic, professional or personal development. English language learners from the Beginner to Advanced level enjoy small class sizes, highly-qualified instructors, and customized programs. The ELI is located in Charleston, SC, a city known for its historic buildings, beautiful scenery, and vibrant cultural scene. Our students have access to a wide variety of campus-based and community activities, as well as many opportunities for practicing English.
Intensive English Program
The Intensive English program is designed for non-native speakers who wish to pursue full-time English language study.  Courses are offered at the Beginner, Intermediate and Advanced levels.  Each session is 8 weeks in duration, with students attending classes for 18-20 hours per week. Students are offered a program customized to their ability level, and are provided with opportunities to practice their emerging skills within the community. Emphasis is placed on pronunciation and accent modification, as well as intonation and syllable stress.
Study for 18-20 hours per week in 8-week sessions.  Sessions are held throughout the calendar year.
Beginning, Intermediate, and Advanced Level courses.
Students will receive individual evaluations of their speech/language skills. Based on the results, a customized program will be developed for each student.
COURSES:
Reading and Vocabulary
Writing & Grammar
Novel Studies
Film Studies
Cultural Studies
TOEFL Preparation (Advanced Students)
TUITION
$1995 (per 8-week session)
Additional fees may apply.  Please see the ELI website for more information.
CONDITIONAL ACCEPTANCE
Students who wish to pursue a degree program at the College of Charleston, and who meet all admission requirements with the exception of English language proficiency, may be granted conditional acceptance to the credit program, pending the successful completion of the ELI Intensive English program. 
Prospective credit students who are lacking required English proficiency may submit an application to the College of Charleston for undergraduate admission, and await an admissions decision. If the student is offered - and accepts - conditional admission, the Admissions team will the notify the English Language Institute, who will then contact the student to complete the process.
Select ELI students may also be eligible to  transition to the credit program, as part-time or full-time students, depending on their demonstrated level of proficiency. Eligibility is limited to students who are placed in the advanced level of Intensive English.
SCHOLARSHIPS
The College of Charleston may offer tuition award scholarships to international students accepted to undergraduate programs.  These scholarships are merit-based and highly competitive.  The College of Charleston does not offer any need-based financial aid for international students. Tuition scholarships are only offered for students accepted to the credit program, and do not apply to any of the ELI programs. The English Language Institute does not offer any form of scholarship or financial aid.
Language and Culture Short Term Program (STP)
Language and Culture Short Term Program offers groups of 10 or more participants a distinctive opportunity to hone their English language skills while exploring a popular tourist destination. Based in Charleston, S.C., this 1-4 week program combines traditional classroom instruction with cultural outings; highlighting the rich history and charming architecture of the downtown area.
Our engaging and experienced instructors will guide students through lessons designed to increase proficiency and expand cultural literacy. Study topics may include Charleston's Connection to the Sea, the Early History of Charleston, and Art in Charleston.
A sample of the STEP schedule may be found on the ELI website. Tuition and fees for the STP program will vary.  Please contact the ELI for more information.
Student Services
ELI students enjoy the College of Charleston's many amenities, including:
Student Health Center
Student Center (includes pool and game room)
Library
Fitness Center
Cafeterias
ELI students are also invited to participate in campus activities, such as: 
Intramural sports leagues and tournaments
Sports clubs (including water sports)
200+ student clubs and organizations (academic/social/international/religious)
Students are offered admission to university sporting events and social events, as well as free transportation on city buses, and various other discounts both on campus and throughout the City of Charleston.
The College of Charleston
Founded in 1770, the College of Charleston is a nationally recognized public liberal arts and sciences university, ranked among the nation's top universities for quality education, student life and affordability. Located in the heart of historic Charleston, South Carolina – world-renowned for its architecture, culture and coastal environment – the College of Charleston offers students a wealth of opportunities for academic exploration, community engagement, and varied cultural experiences.
The College of Charleston's unique combination of contemporary facilities, cutting-edge programs, and picturesque campus attracts students from across the U.S. and around the world. Over 10,000 undergraduates, and approximately 1,200 graduate students at the College of Charleston enjoy both a small-college feel, and the advantages of a mid-sized, urban university. The College of Charleston has long held a tradition of promoting global education, and welcoming international students to our community, with more than 140 international students - representing 34 different countries -  currently enrolled at the College.
College of Charleston - English Language Institute
English Language Institute 
Bachelor Degree
Accounting
Acting & Performing Arts
Anthropology
Art
Art History
Arts and Humanities
Astrophysics and Astronomy
Biochemistry and Molecular Biology
Biology
Business
Business Administration
Business Analytics
Business Information Systems
Business Research
Chemistry
Child Development
Communication
Computer Science
Conservation Law
Construction Management
Creative Writing
Criminal Justice
Earth Science
Economics
Education
English Literature
Environment Development
Environmental Studies and Sustainability
Film Studies
Finance
Foreign Language Teaching
Forensic Science
General Management
Geological Sciences
Health and Wellness
History
Hospitality and Tourism
Human Biology
Human Development and Family Studies
Human Resource Management
Humanities-Prelaw
International Planning Studies
International Relations
Internships
Law
Liberal Arts
Literature in English
Marine Sciences
Marketing
Marketing and Communications
Marketing Research
Mathematics
Music
Music Composition
Philosophy
Physics
Political Science
Psychology
Public Health
Religion
Science
Sociology
Special Education
Special Needs/Learning Disabilities
Studio Art
Supply Chain Management
Theatre
Urban and Regional Planning
Women's and Gender Studies
Youth Development
Masters
Accounting
Arts and Humanities
Business
Child Development
Communication
Computer Science
Creative Writing
Cyber Security
Education
English Literature
Environment Development
Environmental Biology/Microbiology
Environmental Studies and Sustainability
Finance
History
Hospitality and Tourism
Hospitality Business Management
Information Technology
Literature in English
Marine Sciences
MBA
Online Teaching and Learning
Public Policy
Special Education
Special Needs/Learning Disabilities
Teaching English Language
Technology/Computers
Urban and Regional Planning
Youth Development
Certificate/Short Term
Arts and Humanities
Cyber Security
Education
English Language (ESL)
Project Management
Software Engineering
Special Education
Special Needs/Learning Disabilities
Statistics
Summer Camps/Programs
Summer Intensive English
Urban and Regional Planning
English Programs
Business English
English for Academic Purposes
English for Postgraduates
English for Professionals
English for Specific Purposes Programs
English Language (ESL)
General English Programs
Intensive English
Summer Intensive English
TOEFL and Test Preparation
Summer
English for Specific Purposes Programs
English Language (ESL)
English Literature
Summer Camps/Programs
Summer Intensive English
Summer Pre-University