College of Charleston
English Language Institute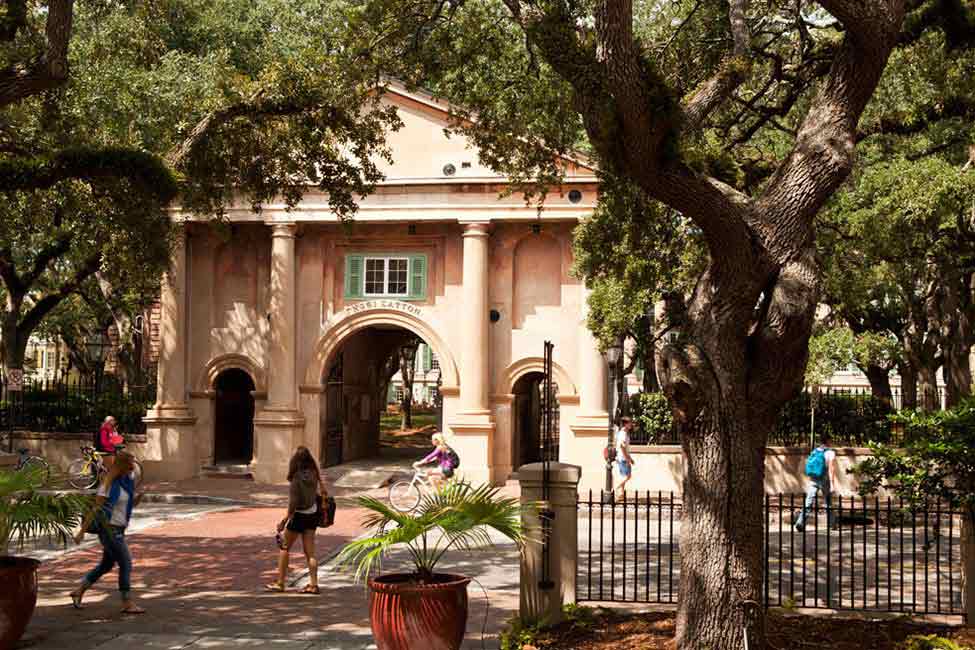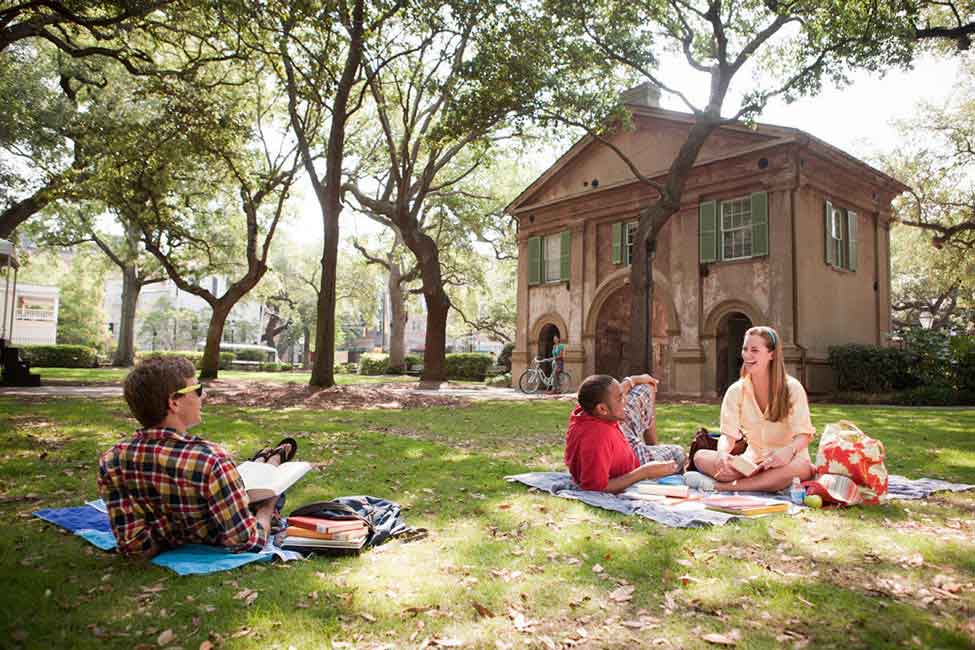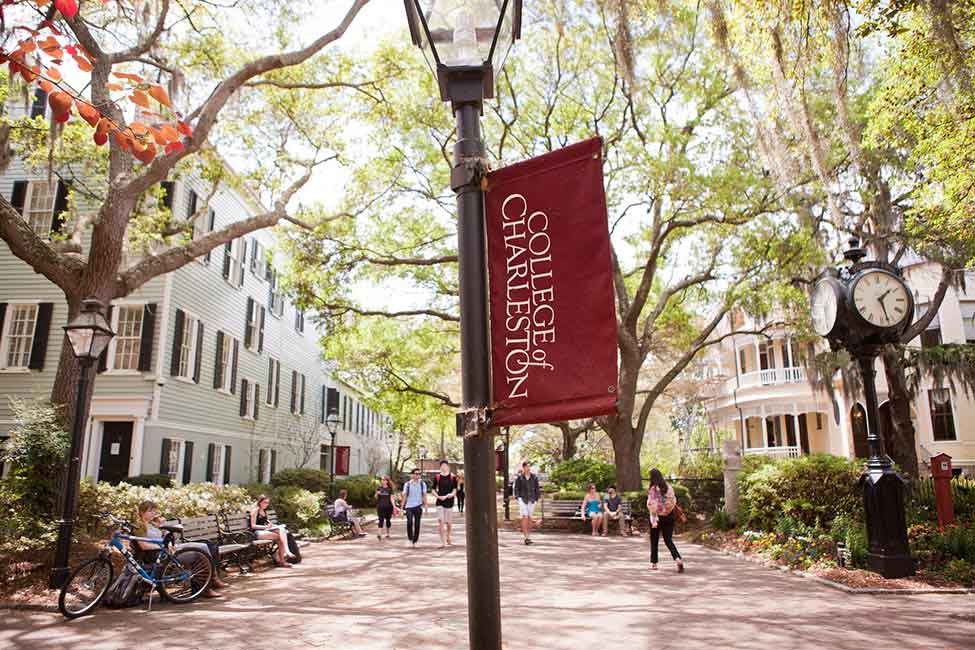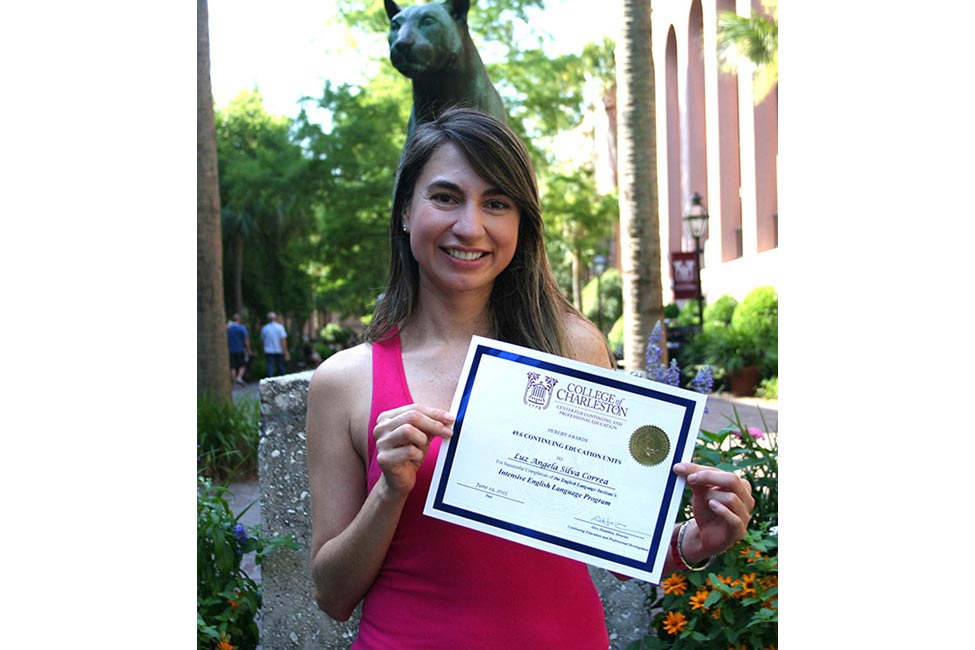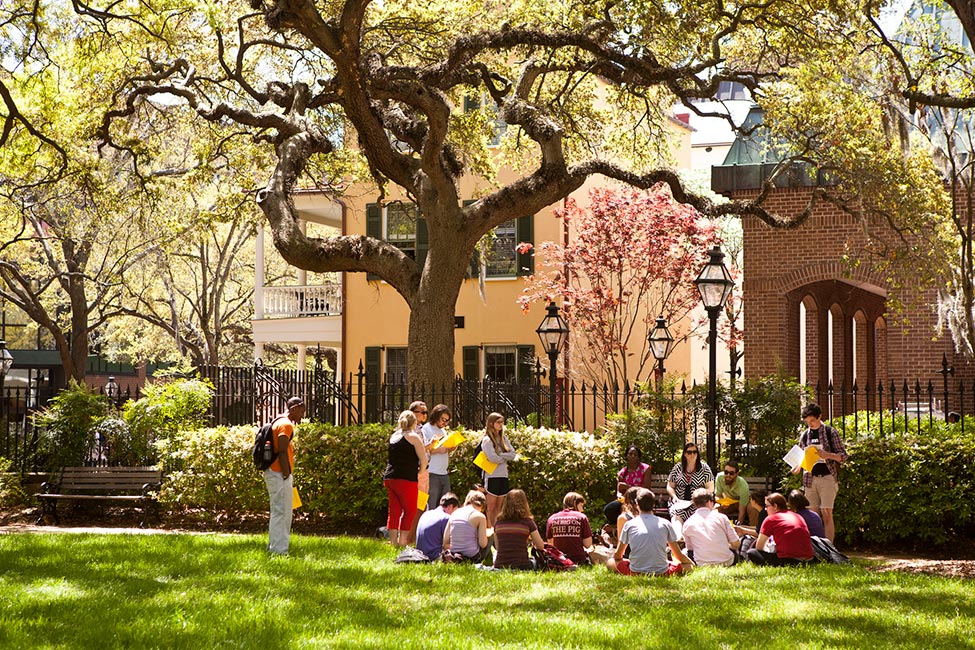 Fast Facts
School Size

Medium

Tuition

$1,000—$5,000 Session

Affiliation

Public

Type of School

University/Intensive English Program

Student Body Gender

Co-ed

Religious Affiliation

No Affiliation

Scholarships for International Students

Yes

Conditional Admission Available

Yes

Top Programs

Study and Travel, English for Academic Purposes, Intensive English

Setting

City

Type of Housing

Residence Hall, Apartment

Social Media
Por que Charleston na Carolina do Sul?
A cidade nº 1 dos Estados Unidos e Canadá (Travel + Leisure, 2016)
A cidade nº 2 do mundo (Travel + Leisure, 2015)
A cidade de destino nº 2 da América do Norte (Condé Nast Traveler)
Entre as 10 cidades de crescimento mais rápido em tecnologia de software e Internet  (Fast Company)
A cidade mais acolhedora dos Estados Unidos (Travel + Leisure)
A cidade mais educada e hospitaleira dos Estados Unidos (Southern Living)
A sexta melhor cidade de todos os tempos (Outside Magazine)
A oitava cidade mais inteligente (Forbes Magazine)
Entre os 21 melhores lugares do mundo (Fodor's Travel guide)
Uma das cidades pequenas mais divertidas dos Estados Unidos (GQ)
O Instituto de Língua Inglesa (English Language Institute)
O Instituto de Língua Inglesa (ELI) oferece uma variedade de cursos para falantes não nativos que desejam continuar o estudo da língua inglesa para seu desenvolvimento acadêmico, profissional ou pessoal. Os aprendizes da língua inglesa, desde os iniciantes até os de níveis avançados, beneficiam-se de turmas pequenas, instrutores altamente qualificados e programas personalizados. O ELI está localizado em Charleston, SC, uma cidade conhecida por seus edifícios históricos, belas paisagens e sua vibrante cena cultural. Nossos alunos têm acesso a uma ampla variedade de atividades no câmpus e na comunidade, bem como a muitas oportunidades para praticar o inglês. 
Curso Intensivo de Inglês
O Curso Intensivo de Inglês é destinado a falantes não nativos que desejam continuar o estudo da língua inglesa em tempo integral. Os cursos são oferecidos nos níveis iniciantes, intermediários e avançados. Cada sessão tem 8 semanas de duração, e os alunos têm de18 a 20 horas de aulas por semana. Os alunos receberão um curso personalizado de acordo com o nível de suas habilidades e terão oportunidades de praticar tais habilidades dentro da comunidade. A ênfase é dada tanto na melhora da pronúncia e sotaque, bem como na entonação. 
Estude de 18 a 20 horas por semana em sessões de 8 semanas. As sessões são oferecidas durante o ano letivo.
Cursos de nível iniciante, intermediário e avançado.
Os alunos receberão avaliações individuais de suas habilidades de fala/linguagem. Baseado nos resultados, um curso personalizado será desenvolvido para cada aluno. 
CURSOS:
Leitura e Vocabulário
Escrita e Gramática
Estudos de Textos Literários  
Estudos de Filmes
Estudos Culturais
Preparação para o TOEFL (Alunos Avançados)
CUSTOS
U$1.995,00 (por sessão de 8 semanas)
Podem ser aplicadas taxas adicionais.  Favor ver o site do ELI para mais informações.
ADMISSÃO CONDICIONAL
Os alunos que desejam fazer um curso de graduação na Faculdade de Charleston (College of Charleston) que cumprirem com todos os requisitos de admissão, com exceção da proficiência na língua inglesa, poderão ser aceitos condicionalmente nos cursos universitários se concluírem com sucesso o Curso Intensivo de Inglês do ELI.
Esses alunos que ainda não possuem a proficiência em inglês exigida, podem apresentar uma solicitação de admissão condicional em um curso de graduação  e esperar a decisão. Se forem aceitos, o Departamento de Admissões irá notificar o Instituto de Língua Inglesa (English Language Institute), que entrará em contato com o aluno para concluir o processo.
Os melhores alunos do ELI poderão estar qualificados para cursar o programa de crédito, como alunos de meio período ou integral, dependendo do seu nível de proficiência demonstrado. Somente alunos do nível avançado curso intensivo de inglês poderão participar. 
BOLSAS DE ESTUDO
A Faculdade de Charleston pode oferecer algum tipo de bolsas de estudo para alunos internacionais aceitos para cursos de graduação. Essas bolsas de estudo são baseadas em mérito e altamente competitivas. A Faculdade Charleston não oferece nenhum auxílio financeiro a alunos internacionais baseados na necessidade. Bolsas de estudo são oferecidas somente para alunos aceitos para o curso de crédito e não se aplicam a qualquer dos cursos do ELI. O Instituto de Língua Inglesa não oferece qualquer forma de bolsa de estudos ou ajuda financeira.
Curso de Curta Duração de Língua e Cultura (STP)
O Curso de Curta Duração de Língua e Cultura oferece a grupos de 10 ou mais participantes uma oportunidade diferenciada de aperfeiçoar suas habilidades na língua inglesa enquanto exploram um destino turístico popular. Oferecido em Charleston, Carolina do Sul, este programa de 1 a 4 semanas combina a instrução em sala de aula tradicional com passeios culturais destacando a rica história e charmosa arquitetura do centro da cidade.
Nossos instrutores experientes e carismáticos, guiarão os alunos através de aulas desenvolvidas para aumentar a proficiência e expandir a alfabetização cultural. Os tópicos dos estudos podem incluir a Conexão de Charleston ao Mar, a História Inicial de Charleston e a Arte em Charleston.
Uma amostra da programação do STP pode ser encontrada no site da ELI. Valor do curso e taxas do programa STP variam. Entre em contato com o ELI para obter mais informações. 
Serviços Estudantis
Os alunos do ELI poderão usufruiu das muitas regalias oferecidas pela Faculdade de Charleston, incluindo:
Centro de Saúde
Centro Estudantil (inclui piscina e sala de jogos)
Biblioteca
Academias de Ginástica
Lanchonetes
Os alunos do ELI também são convidados a participar nas atividades do câmpus, tais como:
Ligas esportivas intra-murais e torneios
Clubes esportivos (incluindo esportes aquáticos)
Mais de 200 clubes e organizações (acadêmicas/sociais/internacionais/religiosas)
Os alunos do ELI podem participar de eventos esportivos da universidade e eventos sociais, bem como transporte gratuito nos ônibus da cidade e vários descontos no câmpus e em toda a Cidade de Charleston.
A Faculdade de Charleston
Fundada em 1770, a Faculdade de Charleston é uma universidade pública de artes liberais e ciências reconhecida nacionalmente, classificada entre as entre as melhores universidades do país pela qualidade da educação, vida estudantil e preços econômicos. Localizada no coração da histórica Charleston, na Carolina do Sul – mundialmente conhecida pela sua arquitetura e ambiente costeiro – a Faculdade de Charleston oferece aos alunos uma riqueza de oportunidades para a exploração acadêmica, envolvimento com a comunidade e variadas experiências culturais.
A combinação única da Faculdade de Charleston de instalações contemporâneas, cursos da mais alta qualidade e um câmpus pitoresco, atrai alunos de todo os Estados Unidos e de todo o mundo. Mais de 10.000 alunos de graduação e aproximadamente 1.200 alunos de pós-graduação da Faculdade de Charleston desfrutam tanto da sensação de uma pequena faculdade, como também das vantagens de uma faculdade urbana de médio porte. A Faculdade de Charleston tem tido por muito tempo a tradição de promover a educação global e acolher os alunos internacionais em nossa comunidade, com mais de 140 alunos internacionais – representando 34 países diferentes – atualmente matriculados na Faculdade.
College of Charleston
English Language Institute 
College of Charleston
English Language Institute 
Contact/Mailing Information: College of Charleston North Campus
3800 Paramount Drive
North Charleston SC 29405
P: (843) 953-0457
College of Charleston English Language Institute 
66 George St.
Charleston SC 29424
P: (843) 953-0457
Masters
Accounting
Arts and Humanities
Business
Child Development
Communication
Computer Science
Education
English Literature
Environmental Studies and Sustainability
History
Public Policy
Special Education
Special Needs/Learning Disabilities
Teaching English Language
Youth Development
Bachelor Degree
Accounting
Anthropology
Art History
Arts and Humanities
Astrophysics and Astronomy
Biochemistry and Molecular Biology
Business
Business Analytics
Business Information Systems
Business Research
Chemistry
Child Development
Communication
Computer Science
Conservation Law
Criminal Justice
Economics
Education
English Literature
Environment Development
Environmental Studies and Sustainability
Film Studies
Finance
Forensic Science
General Management
Geological Sciences
Health and Wellness
History
Hospitality and Tourism
Human Biology
Human Development and Family Studies
Human Resource Management
International Planning Studies
International Relations
Law
Liberal Arts
Literature in English
Marine Sciences
Marketing
Marketing and Communications
Marketing Research
Mathematics
Music
Music Composition
Philosophy
Physics
Political Science
Psychology
Public Health
Science
Sociology
Special Education
Studio Art
Supply Chain Management
Theatre
Urban and Regional Planning
Women's and Gender Studies
Youth Development
Certificate/Short Term
Arts and Humanities
Cyber Security
Education
English Language (ESL)
Special Education
Special Needs/Learning Disabilities
Statistics
Summer Camps/Programs
Summer Intensive English
Urban and Regional Planning
English Programs
English for Academic Purposes
English for Professionals
English for Specific Purposes Programs
English Language (ESL)
General English Programs
Intensive English
Summer Intensive English
TOEFL and Test Preparation
Summer
English for Specific Purposes Programs
English Language (ESL)
English Literature
Summer Camps/Programs
Summer Intensive English