University of Louisiana at Lafayette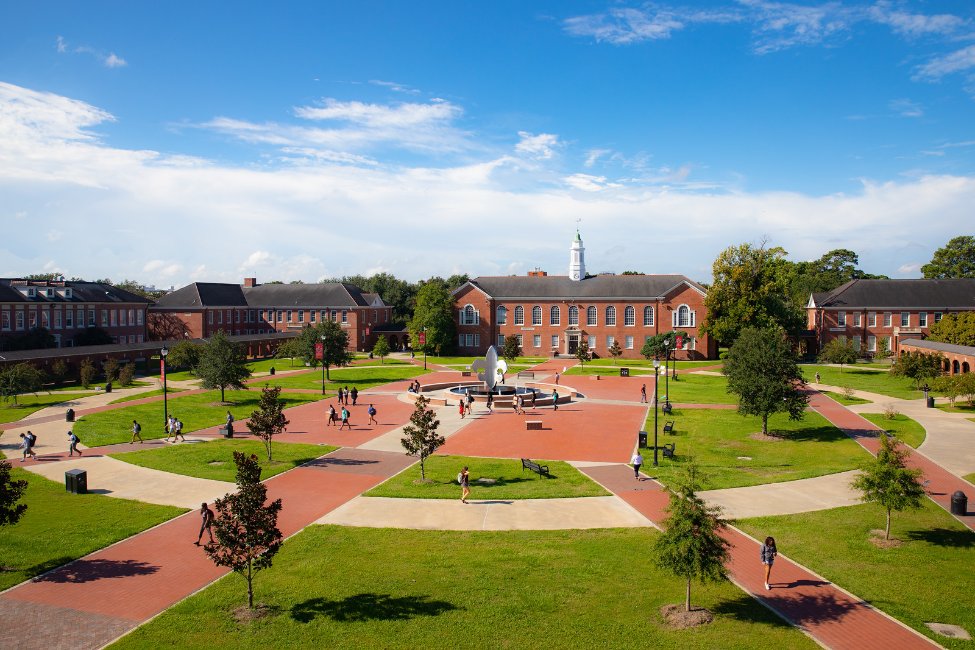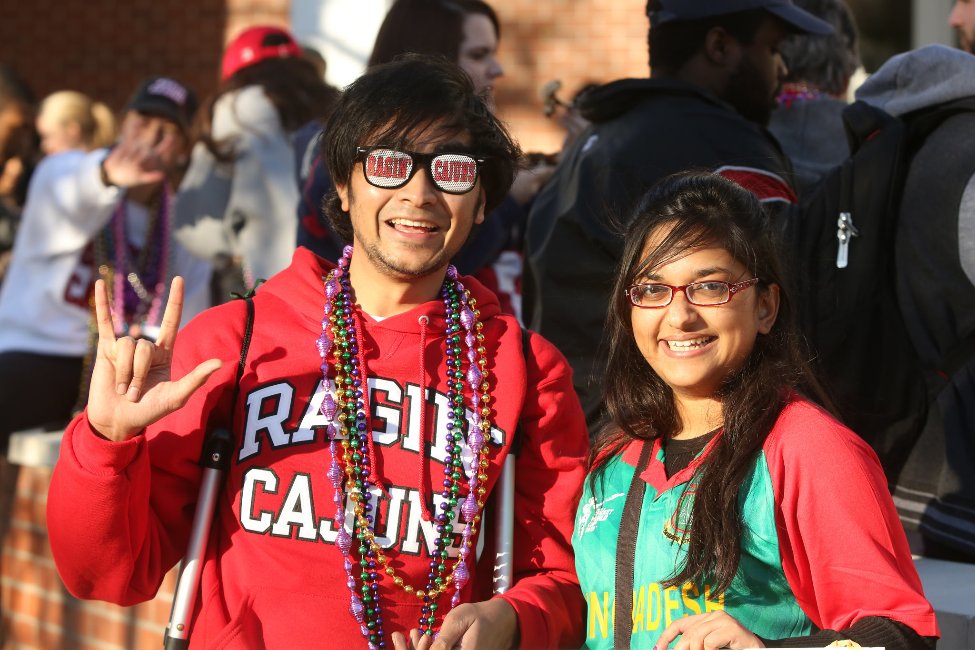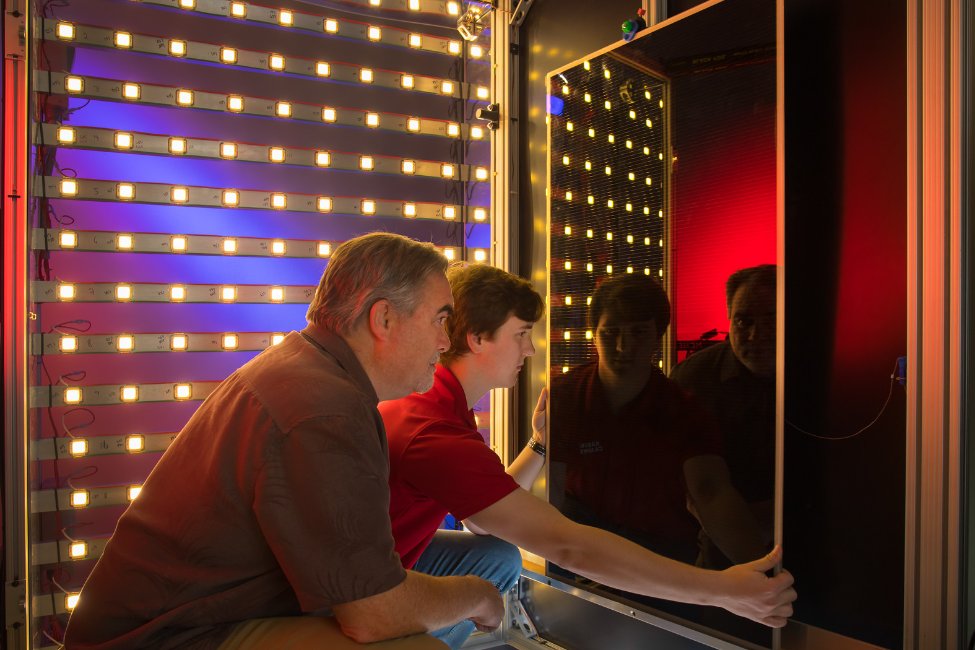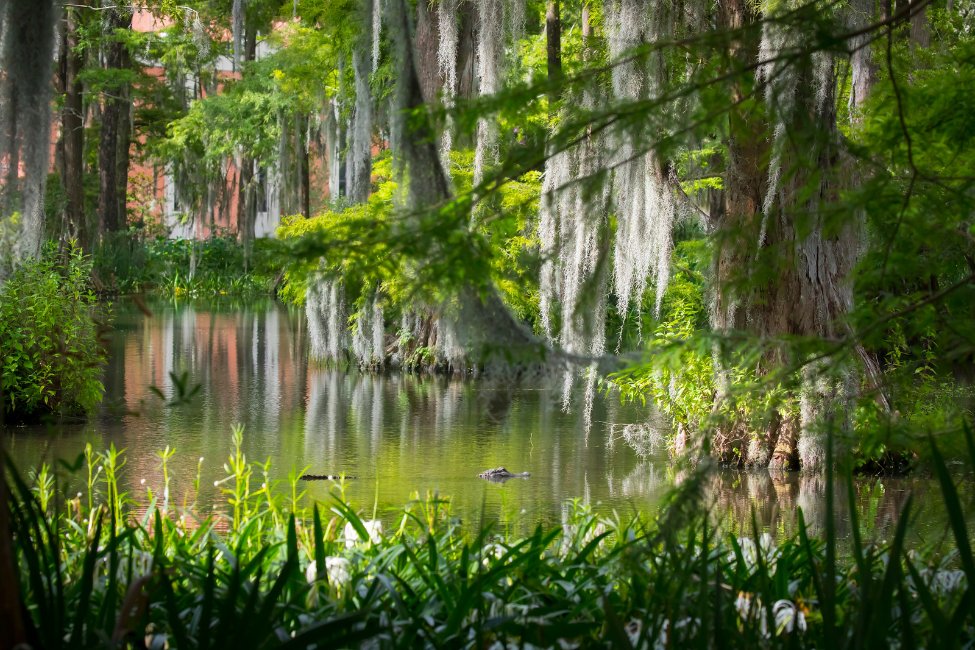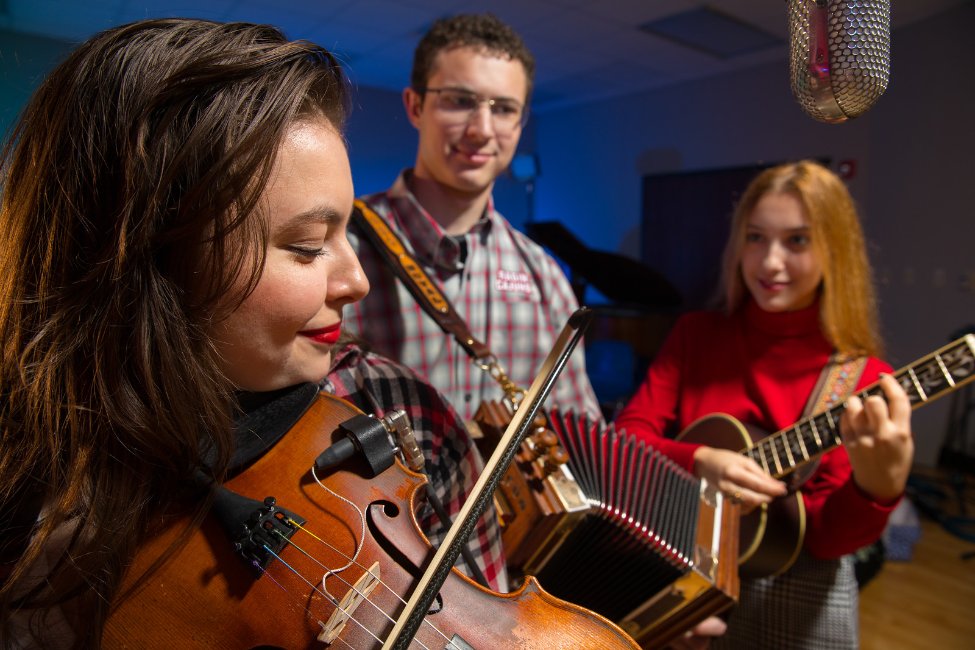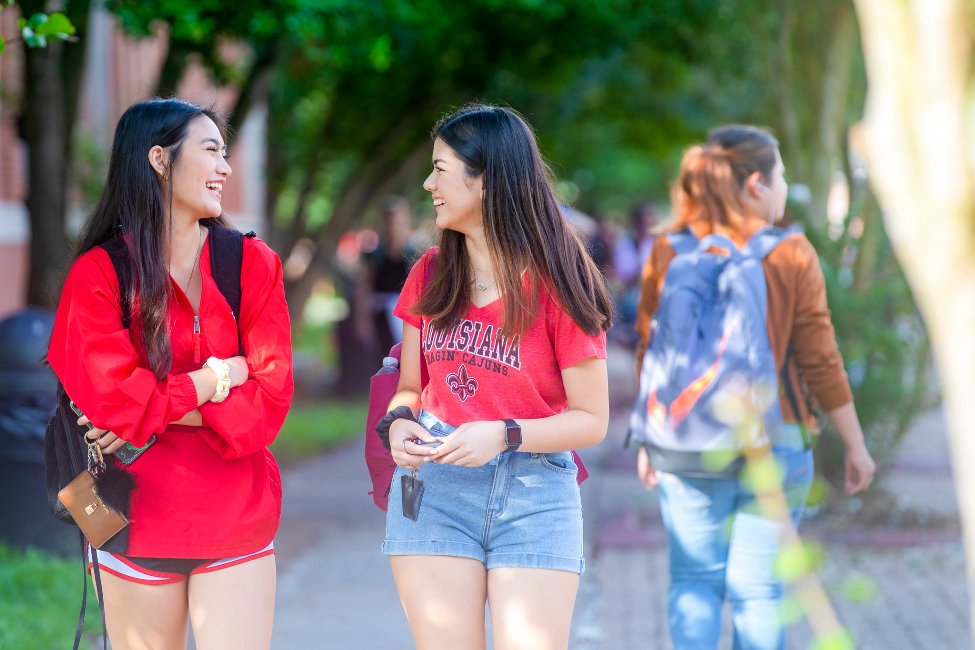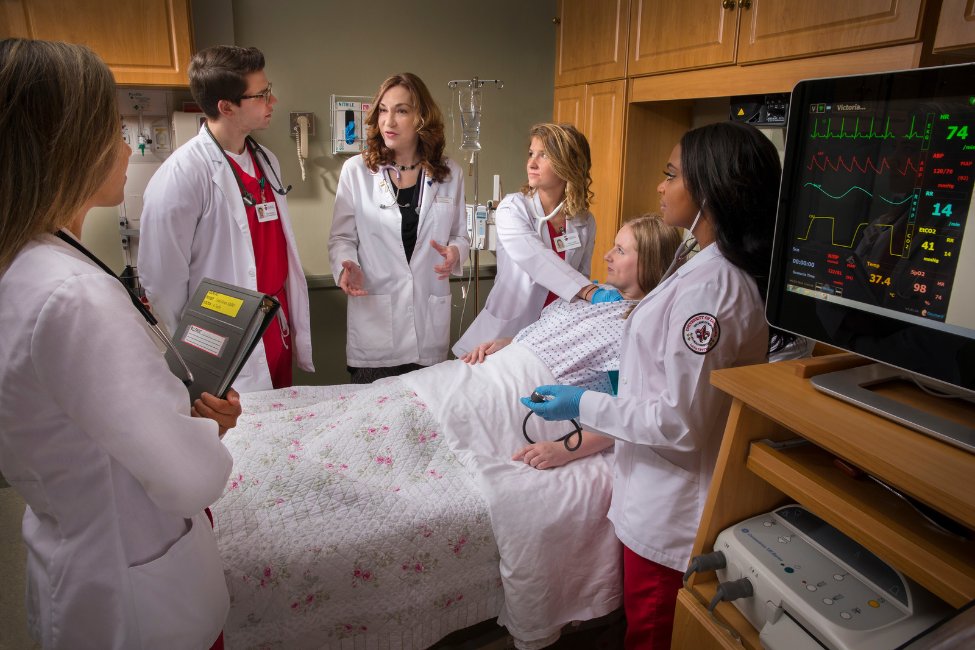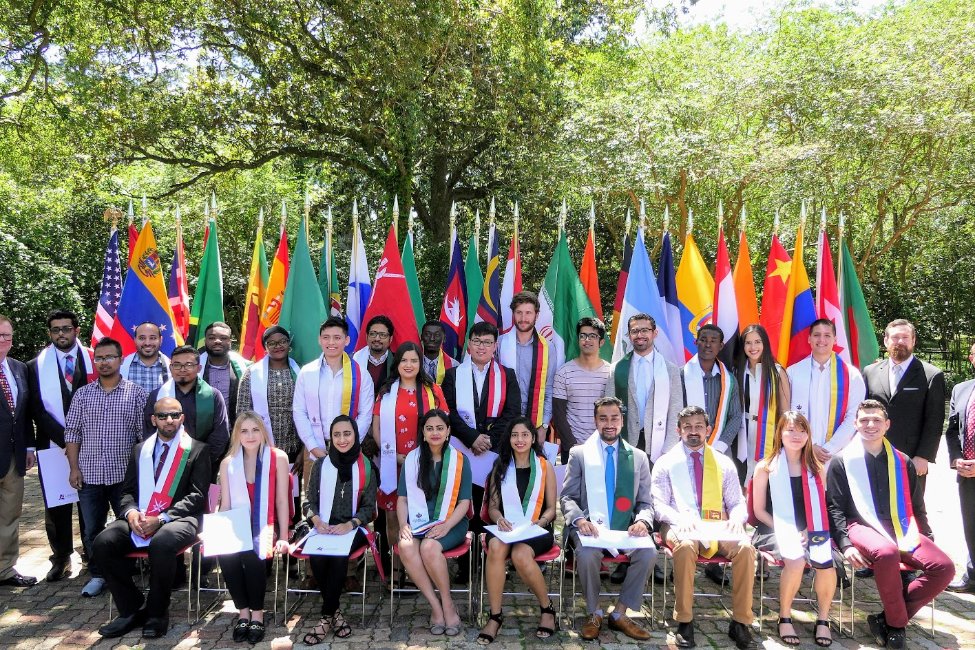 Fast Facts
School Size

Medium

Tuition

$10,000 — $15,000 Semester

Affiliation

Public

Type of School

University

Student Body Gender

Co-ed

Religious Affiliation

No Affiliation

Scholarships for International Students

Yes

Conditional Admission Available

Yes

Top Programs

Computer Science, Engineering, English Language (ESL)

Setting

Small/College town

Accreditation and Certification

EnglishUSA Member, SACS

Type of Housing

Residence Hall, Apartment, Dormitory

Test Scores

TOEFL: 70+ , IELTS: Band 6+, PTE Academic: 50+, SAT Eng: 400+, SAT Math: 510+, ACT Math: 19+, ACT Eng: 18+

Social Media
Welcome to the University of Louisiana at Lafayette—the perfect place to study abroad!
The University
Our campus enrolls a diverse student body of more than 19,000 students each year from all 50 states, including nearly 500 international students over 70 countries. We offer students a high-quality education at an affordable cost.
Outstanding Academic Programs
The University of Louisiana at Lafayette is a public, Doctoral/Research-intensive institution offering over 80 undergraduate, more than 30 master's and 11 doctoral degree programs through the following colleges:
Academic Excellence
UL Lafayette is one of the nation's best institutions for undergraduate education, according to the 2020 edition of "The Best 385 Colleges" published by the Princeton Review. Only about 15 percent of America's 2,500 four-year colleges are profiled in the college guide.
U.S. News and World Report ranked the University of Louisiana at Lafayette among the top 300 national universities in the 2020 edition of "Best Colleges."
The University of Louisiana at Lafayette earned high marks in the 2020 U.S. News & World Report Best Online Programs rankings. UL Lafayette's online bachelor's degree programs were the highest ranked in the state.
UL Lafayette is among the top 10 universities in the United States for its percentage of research and development expenditures funded by business, according to the National Science Foundation.
U.S. News & World Report also ranked UL Lafayette's graduate programs in business, education, engineering, law, medicine, and nursing in the 2020 edition of Best Graduate Schools.
Over the past 38 years, the University's nursing graduates have achieved a 95% or higher first-time pass rates for the National Council Licensure Examination for Registered Nurses.
Forbes named the University of Louisiana at Lafayette as one of its "Best Value Colleges 2019" for school quality, net price, net debt, timely graduation, and mid-career alumni earnings.
"USA Today" editors nominated 20 cities for its 10 Best Reader's Choice contest for Best College Town Weekend; Lafayette, La., was voted No. 1.
Affordability
| | | |
| --- | --- | --- |
| International Tuition | $13,000.00 |   |
| Room & Board | $4,076.00 |   |
| Books | $600.00 |   |
| Subtotal | $17,676.00 | per semester (*12 credit hours) |
*Includes classes, admission to athletic events, student-assessed fees, limited health/accident insurance, and an identification card. All costs are based on undergraduate tuition and fees and are approximate and subject to change.
Services for International Students
Academic and immigration advising
Airport pick-up
International Hour – a social gathering for international and American students every other Friday during fall and spring semesters
International Education Week – Held annually in November to celebrate global initiatives in education 
Educational sessions on work authorization, income tax obligations, and other topics
Organized educational trips to places of interest for Intensive English Program students
Great Location and Climate
Located in Lafayette, a city of 126,000, about 2 hours from New Orleans and 4 hours from Houston

Low cost-of-living

Mild sub-tropical climate

The heart of "Cajun Country" – an area of Louisiana with a strong French subculture
Admission
Students can apply online for undergraduate or graduate admission. International applicants must submit certified official copies of all academic records and have an official TOEFL iBT of 70 (undergraduate) & 79 (graduate) or IELTS score of 6.0 (undergraduate) & 6.5 (graduate). Graduate applicants may also be required to provide GRE scores or GMAT scores (MBA applicants only).
Students who do not meet the TOEFL requirement may enroll in the Intensive English Program (IEP) at UL Lafayette and remain in the IEP until they have successfully met the English proficiency requirement for the degree program of their choice. 
Intensive English Program
The Intensive English Program (IEP) at UL Lafayette prepares non-English speaking students for admission into the University through intensive English courses designed to meet the basic requirements for most universities. The IEP has 6 levels, from beginning to advanced. Students in levels 5 and 6 are allowed to take the TOEFL ITP (Institutional TOEFL) Exit Exam. Once students meet the English proficiency requirement on the Exit Exam, they can apply for admission to UL Lafayette without having to take the TOEFL iBT or IELTS.
Special features:
Six levels (beginning – advanced)
Each level takes 8 weeks to complete
20 hours of instruction per week
Reading, Writing, Grammar, and Listening/Speaking classes
Essay and research paper preparation
Qualified and experienced ESL teachers
Small class size
Affordable costs
Conversational practice and extracurricular activities
Access to University of Louisiana at Lafayette facilities
Interested applicants can apply online.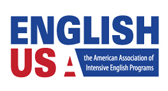 For more information:
University of Louisiana at Lafayette

English Programs
American Conversational English
Bridge Programs
English for Academic Purposes
English Language (ESL)
Intensive English as a Second Language
Summer Intensive English
TESOL and Teacher Training
TOEFL and University Preparation
Certificate/Short Term
Accounting
Business
Business English
Education
English Language (ESL)
History
Nursing
TESOL and Teacher Training
Masters
Accounting
Applied Engineering Sciences
Applied Mathematics
Applied Statistics
Architecture
Astrophysics
Biology
Business
Business Administration
Cell and Molecular Biology
Chemical Engineering
Chemical Physics
Civil Engineering
Communication
Communication Disorders
Composition
Computer Engineering
Computer Science
Creative Writing
Criminal Justice
Earth Science
Education
Electrical Engineering
Engineering
English
English Literature
Environmental Biology/Microbiology
Environmental Studies and Sustainability
Exercise Science
Finance
Foreign Language Teaching
Geological Sciences
Health and Wellness
History
Hospitality Business Management
Human Biology
International Business
International Relations
Journalism
Kinesiology
Linguistics
Literature in English
Management and Leadership
Marine Sciences
Mass Communications
Mathematics
MBA
Mechanical Engineering
Media and Information Studies
Microbiology
Multimedia Journalism
Music
Music Composition
Natural Science
Nursing
Physics
Plant and Soil Science
Plant Biology
Psychology
Public Health
Public Relations
Serious Game Design & Research
Special Education
Special Needs/Learning Disabilities
Sports Management
Strategic Communications
Teaching English Language
Technology/Computers
Telecommunication and Media
TESOL and Teacher Training
Theatre
Online
Accounting
Business Administration
Computer Science
Education
Engineering
General Studies
Health and Wellness
Kinesiology
Nursing
Public Health
Bachelor Degree
Accounting
Acting (BFA)
Acting & Performing Arts
Advertising
Anthropology
Applied Mathematics
Applied Statistics
Architecture
Art
Art History
Arts and Design
Arts and Humanities
Biochemistry and Molecular Biology
Biology
Bridge Programs
Business
Business Administration
Chemical Engineering
Chemistry
Child Development
Civil Engineering
Communication
Communication Disorders
Composition
Computer Engineering
Computer Science
Criminal Justice
Digital Recording Arts
Earth Science
Economics
Education
Electrical Engineering
Engineering
English
English Literature
Environmental Biology/Microbiology
Environmental Studies and Sustainability
Exercise Science
Film Studies
Finance
Foreign Language Teaching
Forensic Science
General Management
General Studies
Geological Sciences
Global Studies in the Arts and Humanities
Graphics/Multimedia & Web Design
Health and Wellness
History
Hospitality and Tourism
Hospitality Business Management
Human Biology
Human Development and Family Studies
Humanities-Prelaw
Information Technology
Interior Design
International Business
International Relations
Internships
Journalism
Kinesiology
Liberal Arts
Linguistics
Literature in English
Marine Sciences
Marketing
Marketing and Communications
Marketing Research
Mass Communications
Mathematics
Mechanical Engineering
Media and Information Studies
Microbiology
Multimedia Journalism
Music
Music Composition
Natural Science
Nursing
Physical Education
Physics
Plant Biology
Political Science
Predental
Premedical
Psychology
Public Relations
Science
Serious Game Design & Research
Social Science
Sociology
Software Engineering
Special Education
Special Needs/Learning Disabilities
Sports
Sports Management
Statistics
STEM
Strategic Communications
Studio Art
Teaching English Language
Technology/Computers
Telecommunication and Media
Theatre
Video Game Design
World Languages and Culture